Stock Market (1999)
At The 1999 Top Cowan Warned That A 17-Year Bear
Market Was Starting in The Stock Market (See Magazine Ads Below).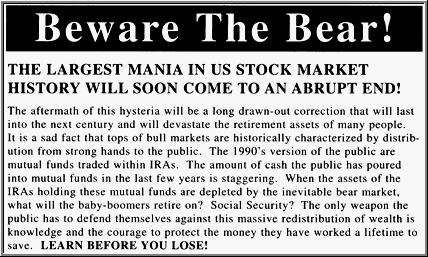 Listen to a recording of the actual Bloomberg Radio ad that Cowan ran every 15 minutes, 24 hours a day, in New York City. These prophetic radio warnings began just minutes before the historic stock market top that devastated many investors portfolios. (Please note that the telephone number given in the radio ad is no longer valid.)
---
Crude Oil (1999)
In early March, 1999 when crude oil was trading at $12 a barrel we posted on the Bradley Cowan Internet Discussion Group* that the next hot futures market would be crude oil. We posted that we had just opened related long positions and gave the price that we bought. The fundamentalists thought that we were crazy because there was a world wide oil glut and no relief in sight. SIX MONTHS LATER OUR ORIGINAL MARGIN HAD MULTIPLIED 10 TIMES!

*The internet discussion group has since been discontinued because Mr. Cowan no longer participates in any such groups. Any forecasts Mr. Cowan makes will only be made on this website and in his books.
[ More Examples (1994-1999) ]
---
Course-Part I | Course-Part II | Gann Courses | Long-Term Data | Catalog
Place Order | About the Author | Market Calls | Testimonials | Home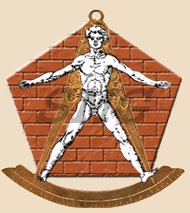 Copyrightę 2015 Stock Market Geometry. All Rights Reserved