Software Based on Bradley Cowan's Award Winning Books
and WD Gann Techniques
"ONE OF THE ABSOLUTE FINEST STOCK MARKET ANALYSTS IN HISTORY. THE ONE ALL THE OTHERS TRY TO COPY."
New additions to Version 2 include WD Gann's PricexDegree. This technique converts a planet's longitude to price and uses it as a support/resistance line. Gann explained this in his courses, which are reproduced on pages 84-86 of Rare Writings of WD Gann.
One of Gann's personal charts of May Soybeans is shown below as an example of how easy it is to plot Price by Degree using CycleTimer Intraday. Gann plotted Jupiter and Mars by hand on this chart. CycleTimer does it automatically.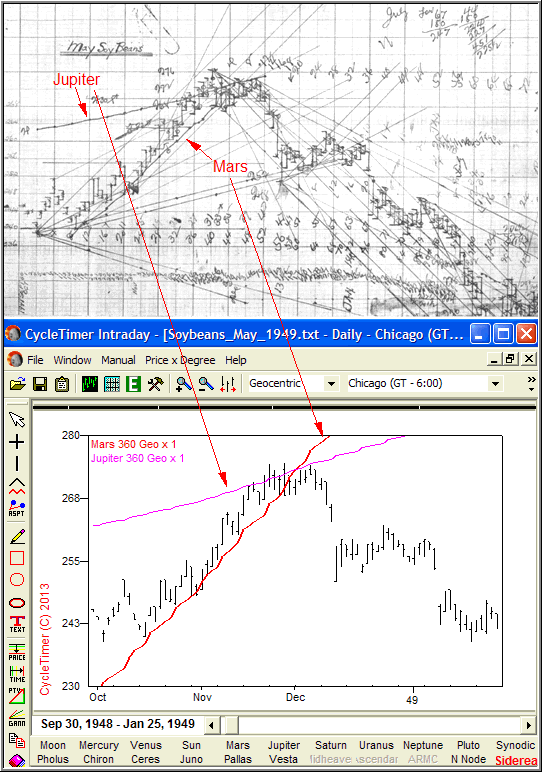 JUST A FEW OF THE MANY SATISFIED CUSTOMERS:
I would like to thank you again for writing you books, I have read your First book 7 times, probably need to read it another 7 or so times. My accuracy is climbing and I believe I will soon have it at over 95%. Indeed Usually I am only 3 or so points away from a target, thanks to you. Earlier this week I was 0.5 Half a point off a target. Thank you so much indeed. ..11/2011
The Pentagonal Time cycle Theory is an excellent book...9/2011
Thanks Brad. I'm grateful I finally ordered PTCT...9/2011
It is awesome! ..7/2011
I read all your masterpieces two times. It is amazing. You are a great person...7/2011
Brad, a little while back I bought Pentagonal Time Cycles, GREAT book..6/2011
Thanks so much for writing this book! I'm familiar with George Bayer's Egg of Columbus pattern, and have been searching for the cause of this for many months, even trudging through Bayer's Astrology Handbook which really was not helpful at all. Your book is extremely well written and easy to understand. Almost half-way through now - just excellent...6/2011
First, your book (Pentagonal) is simply the very best I have ever read about Gann on planetary cyles. I can not thank you enough for making your hard work public at such a reasonable price. It is fantastic, I am going through it the second time already... 4/2011
Using your techniques I was able to end 3rd in a dutch online stock market competition in which there were 6500 participants...4/2011
I wanted to drop you this email to thank you for sharing with us your amazing findings about the markets. Very much appreciated. I have purchased the Pentagonal Time Cycle Theory recently and I have been fascinated by the material contained within it that I have just come back and ordered the Four-Dimensional Set of Books and Market Science I & II...4/2011
I'm hearing great things down here in Australia from other serious Gann traders about this material...1/2011
I coudn't have got a better gift this Christmas than your book set. Thank you so much!..1/2011
Thank you for writing and publishing such an amazing book! You are a very generous man, and I thank you for sharing such great knowledge...1/2011
I wanted to say that I think your insight into the markets is extraordinary. You have taken Gann's more complicated techniques and simplified them in a coherent and comprehensible manner. I think your work with Price-time vectors and time cycles theory goes well beyond other Gann Courses..12/2010